Best way to travel between Naples Airport and Sorrento
Make informed choice on travelling by bus, train or taxi between Naples Airport and Sorrento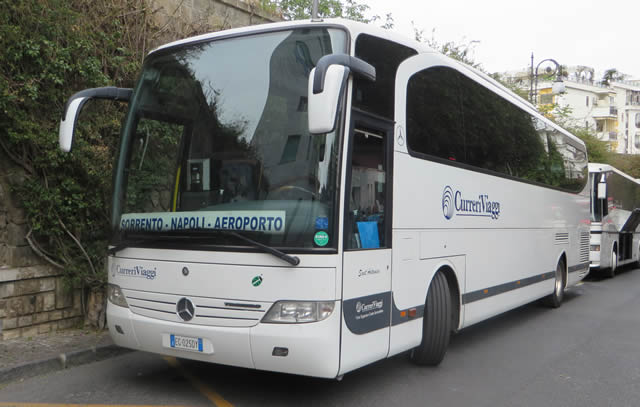 Cash only: Curreri Viaggi Naples Airport bus outside Sorrento Railway Station
On this page
Bus, train or taxi
Naples Airport (NAP flight code) also known as Capodichino Airport or Naples International Airport is situated just 7km north east of Naples city centre. By road direct to Sorrento it's the best part of an hour, travelling past Pompeii. However, severe traffic delays are routine during the peak summer months.
If you are flying into Naples Airport and have booked a hotel in Sorrento independently there are three main options open to you to make the transfer.
In order of price, cheapest to most expensive, these are:
Cheapest option is to take the airport bus from Naples airport to Central Station in the city of Naples then get the Circumvesuviana train to Sorrento

Curreri Viaggi run a regular scheduled bus between Naples and Sorrento. Timetables are erratic and seasonable but are about every two hours

The money no object option is of course a private car pre-booked.
Naples Airport bus & Circumvesuviana Train
As yet the Naples Metro system has not been extended out to the airport so for visitors arriving at the airport and wanting to get to Central Station it's a simple matter of getting the airport bus that starts from a small bus station in front of the passenger terminal.
The airport bus runs broadly at 20 minute frequencies (30 minutes at the weekend) between 6am and about midnight. Journey time is scheduled at around 15 minutes to Central Station, the bus then goes onto the port where it terminates. Note, there also fast boat services between Sorrento and Naples Ferry Port.
Central Station (Stazione Centrale) is the main Naples train station just to the east of the city centre. The Circumvesuviana Trains stop at a physically separate set of platforms to the main train station with their own separate ticket barriers and is called Garibaldi Station. It can be confusing but basically Garibaldi, Central Station and Stazione Centrale are all the same station. Trains to Sorrento run about every 30 minutes and take well over an hour.
Sorrento hotels

Getting around Sorrento

Independent sightseeing & tours
Sorrento hotels
Getting around
Sightseeing/Tours
Curreri Viaggi Sorrento - Naples Airport Bus
Curreri Viaggi are a local operator who have operated a scheduled bus service between Sorrento and Naples Airport for many years. Vehicles are full size coaches like that pictured above.
At Naples Airport the buses depart from in front of the passenger terminal.
You pay the driver in cash on boarding. There are no seat reservations and your luggage goes in the luggage hold under the passenger cabin.
Frequencies are seasonable and broadly every 1 to 2 hours depending on season and time of day travelling.
The route goes non-stop along the motorway/freeway to Pompeii then follows the coast road all the way to Sorrento with stops in the main villages and towns along the way.
The bus terminates in the forecourt of Sorrento Station directly opposite the main entrance. If you are staying to the east of Sorrento the bus stops in the centre of Sant Agnello which may be more convenient.
If your hotel offers a free shuttle bus service it will not come to the train station. The hotels use a few different points around the town to drop off that can be a longish walk from the station. Best to get this sorted out in advance with your hotel as there is little/if any information on the ground and taxis in Sorrento are expensive.
Curreri Viaggi - official website
Private door to door transfers between Naples Airport & Sorrento hotels
The service is door to door in four sizes of vehicles for groups of 1 right up to 15 people.
At the airport after you have collected your luggage, the driver will meet you at the Arrivals Hall located outside the Customs Area. The driver will be holding a sheet with the lead passenger's name.
For an individual quotation use the enquiry form below or book right away with our secure reservation facility.
Terms and conditions:
No hidden extras - Prices include all taxes, parking etc.
Payment by credit card/debit card with no fees - Payment is in advance on the secure website. All major credit and debit cards are accepted. There is no extra fee for payment by credit card.
Cancellation - Cancellation requests must be received in writing by email. In all cancellation cases, you will be charged 5% of the initial fare plus a small additional charge based on the time between cancellation and travel date. There will be no refund for cancellations 48 hours prior to your transfer or no shows at the time of your scheduled transfer.
Don't worry if your flight is late, waiting times - At airports incoming flights are monitored and the driver will adjust his/her arrival time to the actual flight landing time. The driver will be waiting outside the exit to the customs hall with your name around 30 minutes after actual landing - not scheduled time. (If you have no luggage an earlier arrival time can be agreed). Waiting charges will be applied after 60 minutes waiting.
Child & baby seats - Provided on request for a charge.
---
---
---