Fiumicino Airport Taxi Rank v Private Car & Coach Services
Private Door to Door Transfer Solution Between Rome Fiumicino & Central Rome Hotels - But Which?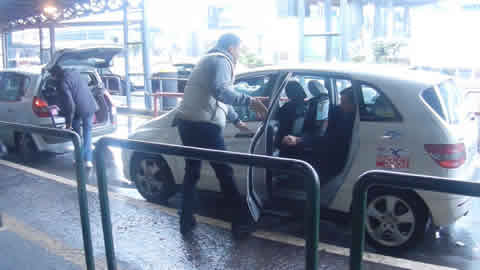 Rome Fiumicino Airport Taxi Rank
Note Size Of City Cabs & Luggage Space
Overview Of Fiumicino Airport Taxi Services - City Cab or Private Car
On paper the licensed taxi services from the airport terminal taxi rank are a very attractive option. The authorities have set a flat standard charge of 48 euro between Fiumicino Airport and all the destinations inside the Mura Aureliane (city walls) that delimit the central area of the city of Rome.
Rome Airport
& Port Transfers
Fiumicino Airport
Ciampino Airport
Civitavecchia
Cruise Port
This includes baggage and is for a maximum of four passengers. The standard fare is valid for either direction. If your destination is outside the city walls then the journey is metered.
Vehicles are a mixed bag but tend to be much smaller than Mercedes saloons so common in other cities. Many are small - see the image right taken at the taxi rank at Fiumicino, more a solution for a single business traveller with briefcase than leisure travellers with luggage. If you have more than 3 large cases, luggage may be a problem.
The cars for the taxi service of the City of Rome are white and can be recognized by the sign "TAXI" on the top and by the identifying licence number on the doors, on the back and inside the car.
Unfortunately the taxi cabs in Rome have a poor reputation for ripping off unsuspecting tourists especially at the airports and Termini Station. A lot of the time the culprits are not licenced taxi cabs at all but people masquerading as such.
Rome Transport

Rome City Public Transport

Rome Tourist Transport

Rome Fiumicino Airport Transfers

Rome Ciampino Airport Transfers

Civitavecchia Cruise Port Transfers

Termini Station

Rome Transport
Public Transport
Tourist Transport
Fiumicino Airport
Ciampino Airport
Civitavecchia
Cruise Port
Termini Station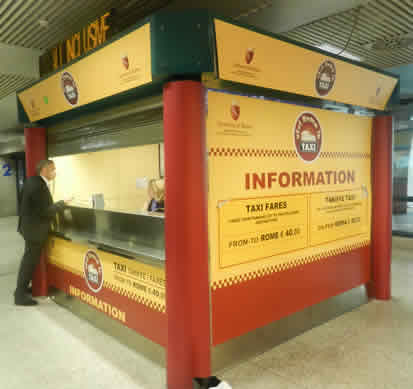 Rome Taxi Information Kiosk
In Passenger Terminal At Fiumicino Airport
It helps a lot if you can speak Italian to query and clarify with the driver.
If you are unsure whether your hotel or destination is covered by the area of the standard fee then check with the Taxi information point within the passenger terminal.
If you are not going inside the city walls then the fare will be metered. Check that the correct Tariff band (there are two) is being applied. If you see a timer positioned conspicuously, this doesn't form any part of the fare and is not for use as an extra add-on to the metered fare.
Unlike the standard fare for going into Rome city centre where bags are part of the fare, for metered rides you will be charged a supplement for each item of luggage.
Above all reject anybody that approaches you offering a taxi or private car transport in the terminal area. Either get a Rome city cab from the taxi rank or pre-book a private car in advance - anybody else is operating illegally, probably in an unlicensed cab.
The airport taxi rank is reasonably well organised with a single lane where the cabs should be forming an orderly queue and its pure chance which individual cab is your turn. If you notice any cab hanging back or leading you to a cab not next in the queue, be suspicious.
---
Alternative Private Car & Coach Service
The alternative to the licensed city cabs are private car, bus and coach services booked in advance. The advantages over the taxi rank cabs are:
Personal Meet & Greet. Flights are monitored, no worries about flight delays.

No hidden prices. Payment by credit card with no fees.

Choice of vehicle to suit party size and luggage capacity.

Instant reservation and confirmation. 24 hour help line.

Free baby seats.




Private Tour Transfers - Rome Tour As Part Of Airport Transfer
An efficient way of seeing Rome within the limited time you have is to fit in a short tour of Rome on your journey from the airport. An ideal way to quickly get orientated with Rome and perhaps revise your priorities for what you want to visit later in more detail and more time.
This is also an ideal way for those staying at an airport hotel overnight not to miss the sights of Rome. The tour can start and finish at your airport hotel.
The transfer/tour visits all the main sights of Rome in a few hours, or you can specify exactly what and for how long you wish to visit specified attractions in your own itinerary.
Tour Transfers To/From Rome Fiumicino Airport - More Details
---
---