Civitavecchia Rome's Cruise Port
What to expect at Civitavecchia with full city centre, tour and airport transfer options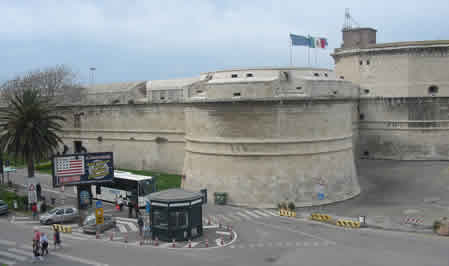 Civitavecchia Port Main Entrance
Cruise Shuttle Bus Drop Off Point By Fort
With Small Information Kiosk
Civitavecchia is a medium size town about 80kms north west of Rome. Civitavecchia is a major ferry port as well as cruise ship port.
Rome's major airport, Fiumicino, is to the west of Rome close to the coast, both airport and Rome itself are about an hours drive.
There is a frequent train service between Civitavecchia and Rome's Termini Station, the most economical way of transferring between Civitavecchia and Rome and its airports.
The town itself is pleasant enough with a well kept sea front promenade with open air cafes and a small regional shopping centre.
The kind of place you could kill time for two or three hours pleasantly if the weather is fair.
Civitavecchia Cruise Ship To Town And Vice Versa
The port is at the heart of Civitavecchia, you walk out of the main port gates directly into the town centre.
The port is very large and quite spread out, the cruise ships docking a long way from the main port entrance.
A fleet of complementary buses shuttle between the ships in port and the main entrance, by an ancient fort.
Rome Transport

Rome City Public Transport

Rome Tourist Transport

Rome Fiumicino Airport Transfers

Rome Ciampino Airport Transfers

Civitavecchia Cruise Port Transfers

Termini Station

Rome Transport
Public Transport
Tourist Transport
Fiumicino Airport
Ciampino Airport
Civitavecchia
Cruise Port
Termini Station
There is a small tourist information kiosk at this point where you get on and off the bus by the fort including details of the hop on, hop off buses in Rome. The information kiosk seems more geared up to visiting Rome than exploring Civitavecchia itself, though there is a hop on, hop off sightseeing service of the locality.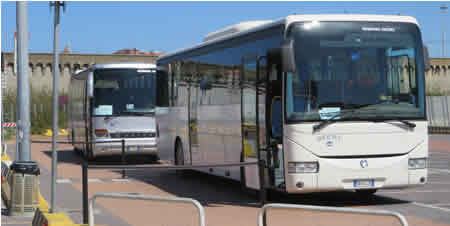 Civitavecchia Port
Complementary Cruise Shuttle Bus
Once you exit the main gate, you may well be approached by touts from anything from taxi's to tours. So look as if you know what you are doing and know here you are going, even its into McDonalds right here next to the gate.
Turn left, straight away into the heart of the town and its shops, go straight ahead along the promenade footpath for the station and pleasant wide promenade with open air cafes.
Getting To Rome From Civitavecchia
No doubt your cruise ship will offer transfer and Rome tour options. These tend to be on the expensive side. Its quite easy for the independent minded traveller to do the sightseeing you want to do in Rome at your own pace at a fraction of the cost.
There is an excellent train service between Civitavecchia and Rome that is easily accessible to all. We have a dedicated page for the train service between Civitavecchia and Rome so you too can see how easy it is.
Note: Fares and Timetables On The TrenItalia site for Civitavecchia trains are only displayed up to seven days in advance.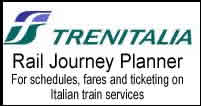 Train Tickets & Times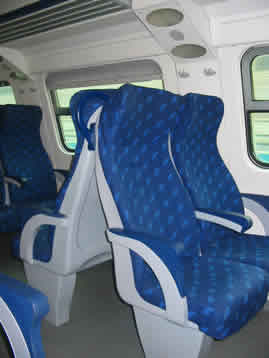 Civitavecchia Train Interior
Once you are in Rome you can explore independently, the Rome visitors want to see is a very compact area, grab a tour or perhaps most popular of all use one of a choice of Rome hop on, hop off sightseeing bus options like the bus pictured right.
The trains themselves are more often than not run with double deck carriages. The picture left is of a typical interior, seats are not allocated.
There is a small space between the seats where you can put a medium size case and overhead luggage rail, (see picture). Its not as bad as it might look, luggage will be a problem if you have two or more large cases per person, plus hand luggage.
Trains are not normally crowded at all except at the height of the commuter period into Rome in the morning and out in the evening.
At Rome's Termini Station there is a left luggage office
Its about 750m between Civitavecchia train station and the dock gates for the cruise port.
Complementary shuttle buses run from your cruise ship to the dock gates.
For those without luggage its a pleasant 10-15 minute walk along the promenade. For those with luggage it is doable but taxi's are freely available.
In the port to train station direction, once you pass through the main entrance to the port, where the bus drops you off, you just keep to the right hand side of the road that runs parallel with the sea. Your path should look uncannily like the picture to the right.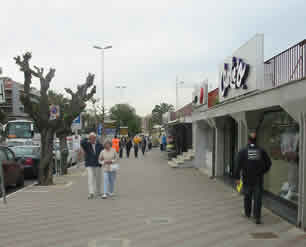 Civitavecchia Promenade
As you can see its pretty wide and flat, suitcases on wheels should roll along nicely. Just keep going, you'll see a couple of reassuring signs indicating the way to the train station (stazione ff.s).
When you are opposite the Hotel de La Ville on the other side of the road its time to cross the road and follow the same coastal road on the other side. Very shortly the station approach road slants slightly uphill up to the train station entrance.
In the reverse direction, when you come out of the station entrance turn right past the taxi rank, descending to a main road that follows the coast to your left. This road goes all the way to the port entrance. At a convenient point cross over to the coastal side of the road. If you want a break along the way there are several open air cafes, even an Irish pub, on the station side of the road.
Day To Trip To Rome? - Maybe Get Off Train At St Peter's (S.Pietro)
If you are visiting Rome on a stopover on a cruise ship, the train is an excellent way of avoiding the high prices of the cruise line offerings.
For most doing such a day trip its a good idea to get off the train at S.Pietro (St Peter's). Not only is it marginally cheaper than going to the terminus at Termini Station but it will save you 30 minutes, maybe more. St Peter's Station is only 10 minutes walk from St Peter's Square and the Vatican Museums. All the Rome Hop On, Hop Off sightseeing buses park in front of St Peter's Square.
There are also local buses from in front of St Peter's Station that will take you into the very heart of Rome.
Full Details Of Using Public Transport For A Day Visit To Rome From Civitavecchia
Taking The Train Between Fiumicino Airport And Civitavecchia
There are no direct trains between Rome's main airport and its cruise port, but the journey can be performed very easily with one change of train at Trastevere. The trains between Fiumicino Airport and Trastevere and Trastevere and Civitavecchia both run several times an hour and you can purchase a through ticket,
If you have time for sightseeing in Rome you can take the Leonardo Express train from Fiumicino Airport to Rome's Central Station, Termini. By the platform at Termini this train uses is the left luggage office, (though expect queues). All the hop on, hop off sightseeing buses start from in front of the station. The Civitavecchia trains start from Termini Station.
Details of Transport & Tours Between Between Rome's Airports And Civitavecchia
Car Transfers & Tours Between Civitavecchia & Rome Airports
The most convenient and fastest transfer solution between Civitavecchia and Rome or its airport is a private vehicle. Journey time is around 60-75 minutes. Flexible, customised tours of Rome can also be provided
The advantages over the taxi rank cabs are:
Personal Meet & Greet. Flights are monitored, no worries about flight delays.

No hidden prices. Payment by credit card with no fees.

Choice of vehicle to suit party size and luggage capacity.

Instant reservation and confirmation. 24 hour help line.

Free baby seats.
Details of Private Car Transport & Tours Between Civitavecchia & Rome
---

---