The Rome Metro System
Everything You Need To Know About Using Rome's Metro Services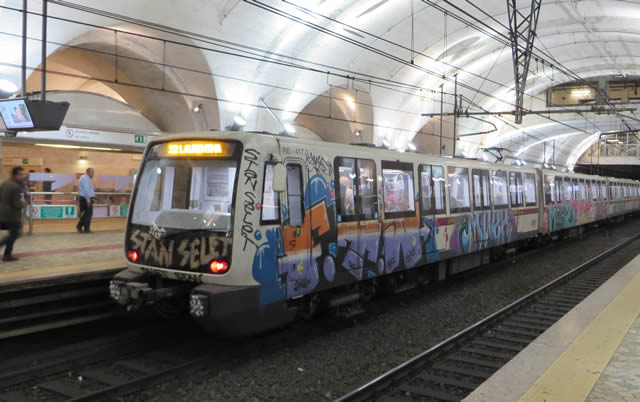 Rome Metro Train
Graffiti Is A Problem
The Rome Metro Underground Train system at the moment has just two lines named A and B, The lines intersect at Rome Termini Station, the main public transport hub in Rome. A new Line C is in the process of being built. Originally due in the year 2000 it has been delayed and delayed. So far the only impact has been construction work causing temporary closures of services elsewhere in the network.
Rome
City Transport
Public Transport
Transport Maps
Tourist Transport
You'll find that the Metro misses much of the city centre and even when Line C finally arrives, compared with other major cities like Paris and London it will have limited coverage of the city of Rome. To be honest travelling by Metro is not the pleasant fast transit it should be. Stations are often not very clean, graffiti is a real problem, so much so that sometimes you cannot see out the windows of Metro trains particularly hard hit with graffiti. The system is also very crowded.
The one saving grace of the Rome Metro is speed. If the Metro line covers the journey you want to make its going to be the fastest way of getting from A to B.
Despite the relative lack of coverage by the Rome Metro, some of the major attractions are well served. The Colosseum/Roman Forum and Spanish Steps have Metro stations adjacent to the attractions and you can get within 5 minutes walk of the Vatican Museums and St Peter's Square.
The Rome Metro doesn't go out to either of Rome's Airports direct but you can take Line B to Tiburtina or Piramide where you can catch a cheap stopping train to Fiumicino Airport and from the southern terminus of Line A, Anagnina, there is a local bus to Ciampino Airport.
Rome Transport

Rome City Public Transport

Rome Tourist Transport

Rome Fiumicino Airport Transfers

Rome Ciampino Airport Transfers

Civitavecchia Cruise Port Transfers

Hotels Around Termini Station

Rome Transport
Public Transport
Tourist Transport
Fiumicino Airport
Ciampino Airport
Civitavecchia
Cruise Port
Hotels
Termini Station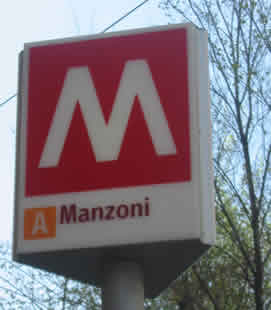 Rome Metro Sign
It also helps visitors that Termini Station, hub of the Rome Metro where Lines A & B cross each other is the single largest hotel district in Rome.
The Rome Metro struggles to meet demand, expect overcrowding, even at off-peak times. Don't expect to get a seat either, if you do get one, treat it as an unexpected bonus if you do.

Finding Your Way Around The Rome Metro
Metro Trains run approximately every 4-10 minutes, from 5:30am until 11:30pm every day (until 12:30am on Saturdays).
Some of the stations are not that conspicuous and easy to locate at street level, often just a couple of Metro signs by an entrance that could be steps going anywhere at the smaller stations. Some of the smaller stations there are separate entrances for each direction and you are not able to cross to the opposite side of the line once inside the station.
None of the stations are particularly deep. The larger stations are well signed and when you end your journey there are plenty of local street maps displayed depicting the immediate area around the station.
Rome Metro Map (Lines A and B)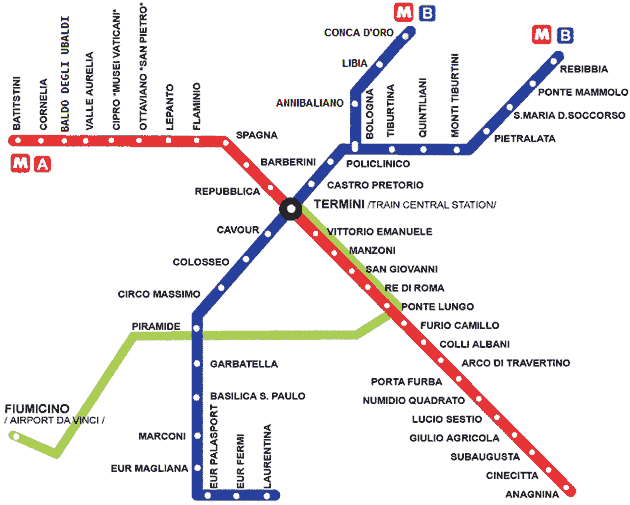 ---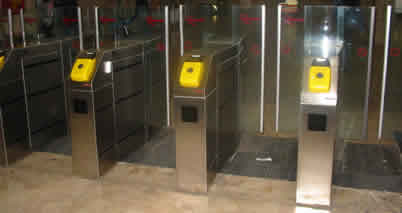 Rome Metro Ticket Barriers
Ticket Barriers In Metro Stations
To access the Metro system you need to pass through the ticket barriers, like those pictured left.
The barriers themselves are little different to the barriers found at Metro systems worldwide. Put your ticket in the slot and if valid the barrier will open and your ticket will be returned.
If you have purchased a public transport pass, the first time you use the pass the date and time is recorded on the tickets. If for instance you have a 3 day ticket, the ticket is valid for 3 days from that recorded on the ticket.
Children under 10 travel free and do not need a ticket.
---
Rome Bus, Tram & Metro Fares & Ticketing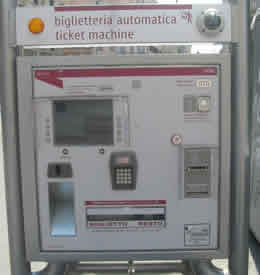 Automated Ticket Machine
All local public transport is integrated in Rome. You have to purchase your tickets before you board any public transport in Rome. Most people will have a pass of one kind or another.
Tickets for both the bus system and Metro can be purchased from tobacconists, bars, or vending machines at metro stations and major bus stops. On both buses and metro there is a flat fare. whether you go one stop or to the end of the line.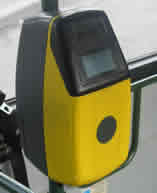 Ticket Validation Machine
At Metro Stations there are ticket barriers where you have to insert your ticket to enter and leave the Metro Station.
On buses and trams you will find ticket validation machines similar to that pictured. If you have a single ticket then enter the ticket into the machine, if you have purchased a pass, you put the pass into the machine on your first journey. This stamps the date and time from which the pass or ticket is valid.
Most of the locals will not be using these machines, they are not fare evaders but have season tickets of one type or another.
Groups of ticket inspectors from time to time descend onto a bus or platform to check all passengers have valid tickets. If not you will incur a heavy fine, playing the innocent tourist doesn't work.
Many visitors will be arriving at Termini Station. Termini Station is a good place to get your tickets, especially travel passes. There are a lot of kiosks at the bus station in front of the railway station and many tobacconists around the station who are used to dealing with visitors and advertise the fact in English.
If you are brave, there are some automatic ticket vending machines with instructions in English, (pictured above), the machine pictured was at Termini Station.
Rome Bus, Tram & Metro Ticket Prices
Ticket options are:
B.I.T. € 1.50. Standard ticket, valid for one Metro ride or 75 minutes on all buses.
B.I.G. € 6.00. Daily ticket, valid for unlimited metro, bus, and train travel within Rome.
B.T.I. €16.50. 3-day tourist ticket, valid for everything listed under the B.I.G ticket.
C.I.S. €24.00. Weekly ticket
Note: Public transportation is free for children less than 10 years old.
---

---
Roma Cristiana Tour Bus Plus Rome Public Transport Bundle (1 & 3 Day Tickets)
(The Vatican & Rome Card)
Save time and money!
Its a straight forward proposition, combine the Roma Cristiana hop on, hop off city sightseeing bus with a public transport pass covering all of Rome's metro, tram, suburban train and bus system in one convenient and money saving pass that covers all your transport requirements when visiting Rome.

---

---