Rome Public City Bus Services
Everything You Need To Know About Using Rome's Local Public Bus & Tram Services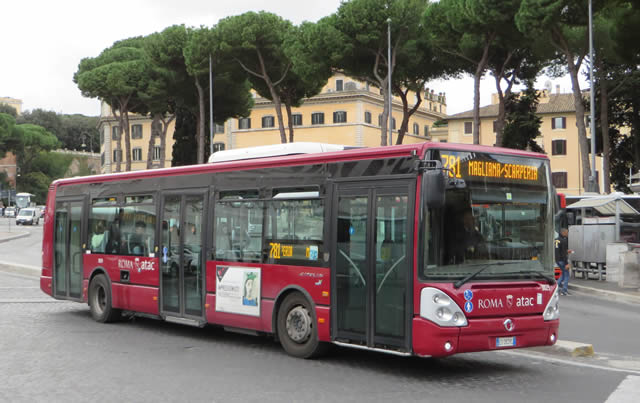 Typical Rome Public City Bus
Rome public buses run a very comprehensive and frequent system running from about 05:30 to midnight daily. These bus services are supplemented by night services that run all night along the core routes.
In the centre of Rome, where most visitors are, the major bus terminus is in front of Termini Station. Termini is the major public transport hub for central Rome and if you use public transport for sightseeing it will soon become a familiar place.
In general the public buses are used for very short journeys and as a feeder service to the Metro and train networks.
Rome
City Transport
Public Transport
Transport Maps
Tourist Transport
However, in the ancient centre of Rome, where neither the Metro or any railway line ventures, the bus is the only viable public transport. Even so, the buses are constrained in this central area, far too big to travel along many of the roads they trundle along just a few of the major road arteries. Make sure you have comfortable walking shoes.
Bus Maps & Finding Your Way Around
There are a bewildering array of routes. Below is a link to the official bus map of Central Rome.
In the very centre of Rome the narrow streets mean all buses are channelled down a few major roads. You will often find you have a wide choice of routes going where you need as a result and have no need for a bus map.
Rome Transport

Rome City Public Transport

Rome Tourist Transport

Rome Fiumicino Airport Transfers

Rome Ciampino Airport Transfers

Civitavecchia Cruise Port Transfers

Hotels Around Termini Station

Rome Transport
Public Transport
Tourist Transport
Fiumicino Airport
Ciampino Airport
Civitavecchia
Cruise Port
Hotels
Termini Station
Helpfully nearly all bus stops are very large with the routes stopping at the bus stop clearly displayed. Each route is detailed with the major stops along the way stated, (see image below).
At many bus stops there are electronic displays that display the estimated arrival time of buses of the various routes. This information is driven by real time tracking devices on the buses and is quite accurate.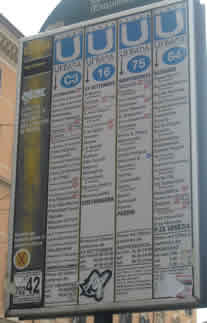 Typical Rome Bus Stop
Don't expect orderly queues where those waiting longest get on the bus first. More than likely the bus will be crowded and there will be an undignified scramble onto the bus often with pushing past those trying to get off the bus.
Don't expect to get a seat either, if you do get one, treat it as an unexpected bonus. Clearly your chances of getting a seat are much better if you get on at the starting point of the bus.

Useful Routes For The First Time Visitor
Of the main 'must see' sights the Vatican, Spanish Steps and Colosseum / Forum are best visited by Metro if you can. The ancient centre of Rome is a no go area for the Metro, you either need to walk (and walking is a very attractive proposition in Rome) or take the local bus.
Some key, frequent routes for the tourist are listed below, but there are many, many more.
40 (Limited stop express) - Termini - Piazza Venezia - Argentina - Piazza Pia (for St Peter's/Vatican)
64 - Termini - Piazza Venezia - Argentina - Vatican
62 - Repubblica - Spanish Steps - Piazza Venezia - Argentina - Vatican
81 - Vatican Museums - Piazza Imperatore (Spanish Steps) - Piazza Colonna (Trevi Fountain) - Piazza Venezia - Circo Massimo - Colosseum
60 - Repubblica - Piazza Venezia - Colosseum - Circo Massimo
H - Termini - Piazza Venezia - Argentina - Trastevere
9 (Tram) - Argentina - Trastevere
---
Rome Bus, Tram & Metro Fares & Ticketing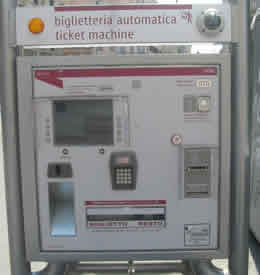 Automated Ticket Machine
All local public transport is integrated in Rome. You have to purchase your tickets before you board any public transport in Rome. Most people will have a pass of one kind or another.
Tickets for both the bus system and Metro can be purchased from tobacconists, bars, or vending machines at metro stations and major bus stops. On both buses and metro there is a flat fare. whether you go one stop or to the end of the line.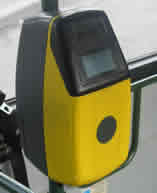 Ticket Validation Machine
At Metro Stations there are ticket barriers where you have to insert your ticket to enter and leave the Metro Station.
On buses and trams you will find ticket validation machines similar to that pictured. If you have a single ticket then enter the ticket into the machine, if you have purchased a pass, you put the pass into the machine on your first journey. This stamps the date and time from which the pass or ticket is valid.
Most of the locals will not be using these machines, they are not fare evaders but have season tickets of one type or another.
Groups of ticket inspectors from time to time descend onto a bus or platform to check all passengers have valid tickets. If not you will incur a heavy fine, playing the innocent tourist doesn't work.
Many visitors will be arriving at Termini Station. Termini Station is a good place to get your tickets, especially travel passes. There are a lot of kiosks at the bus station in front of the railway station and many tobacconists around the station who are used to dealing with visitors and advertise the fact in English.
If you are brave, there are some automatic ticket vending machines with instructions in English, (pictured above), the machine pictured was at Termini Station.
Rome Bus, Tram & Metro Ticket Prices
Ticket options are:
B.I.T. € 1.50. Standard ticket, valid for one Metro ride or 75 minutes on all buses.
B.I.G. € 6.00. Daily ticket, valid for unlimited metro, bus, and train travel within Rome.
B.T.I. €16.50. 3-day tourist ticket, valid for everything listed under the B.I.G ticket.
C.I.S. €24.00. Weekly ticket
Note: Public transportation is free for children less than 10 years old.
---

---
Roma Cristiana Tour Bus Plus Rome Public Transport Bundle (1 & 3 Day Tickets)
(The Vatican & Rome Card)
Save time and money!
Its a straight forward proposition, combine the Roma Cristiana hop on, hop off city sightseeing bus with a public transport pass covering all of Rome's metro, tram, suburban train and bus system in one convenient and money saving pass that covers all your transport requirements when visiting Rome.

---
Airport Bus Services
There are very cheap bus services to both of Rome's airports, Fiumicino and Ciampino. The market leader is currently Terravision to both airports.
Rome Airport
& Port Transfers
Fiumicino Airport
Ciampino Airport
Civitavecchia
Cruise Port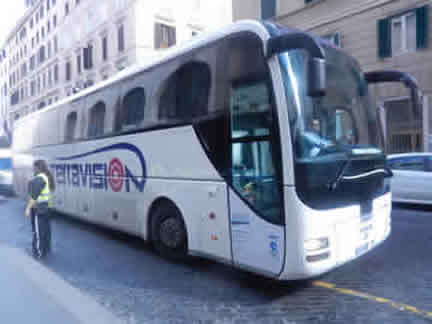 Terravision Rome Airport Bus
At Termini Station
The Rome terminus for all the airport bus services from both airports is Termini Station, the same railway station that the dedicated airport train from Fiumicino Airport arrives.
Unfortunately you cannot use Rome public transport tickets to either of the Rome airports by bus or train.
Termini Station Rome
In Rome the terminus is on the east side of Termini Station for all the airport bus companies, the main transport hub in the centre of Rome. The main local bus station, Rome's major train station and the hub of the Rome Metro system is here.
The area around Termini also has the largest choice of hotel accommodation in Rome from hostels right up to luxury hotels.
All of the three competing bus services from Fiumicino terminate in this same area at Termini Station. Terravision is the only operator that has a formal ticket office and waiting room. This is inside the Terracafe, Terravision's own cafe and bar.
Airport Train Service From Fiumicino Airport
The Leonardo Express Airport Train is a dedicated airport train taking 30 minutes to reach the centre of Rome (Termini Station) with a frequency every 30 minutes.
The only reason not to use the service is cost, it is around double the cost of alternative public transport options.
There is no direct train service to Ciampino Airport.
The Leonardo Express Airport Train - More Details
---

---