Rome Ciampino Airport Bus - Terravision or SIT
Logistics of travelling to the centre of Rome cheaply by airport bus from Ciampino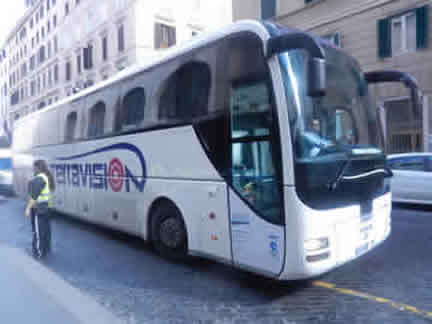 Terravision Rome Airport Bus
At Termini Station
As Rome Ciampino airport has no direct rail link, you have to leave the airport one way or another by vehicle. The only direct link between Ciampino airport and the city are the Rome Ciampino Airport bus services.
There are two competing airport bus services from Ciampino to central Rome. The terminus for both of them in Rome is Termini Station, the main public transport hub for Rome.
There is also a local bus from Ciampino Airport that connects the airport with the southern tip of Rome's Metro system.
Rome Airport
& Port Transfers
Fiumicino Airport
Ciampino Airport
Civitavecchia
Cruise Port
Terravision Airport Bus - Rome Ciampino To Termini Station Rome
From Ciampino, arguably the most popular direct link to the centre for visitors is the Terravision coach service. It is heavily promoted by the airlines flying into Ciampino.
Journey Duration: Ciampino - Termini in 40 Minutes
Ciampino Airport
Ciampino is a relatively small single terminal airport. On exiting customs turn left going through the doors outside. Bear left and there is a coach stand on your left. There will probably be other passengers waiting and a Terravision rep.
Rome Termini Station
In Rome the terminus is on the east side of Termini Station, the main transport hub in the centre of Rome. The main local bus station, Rome's major train station and the hub of the Rome Metro system is here.
The area around Termini also has the largest choice of hotel accommodation in Rome from hostels right up to luxury hotels.
Rome Transport

Rome City Public Transport

Rome Tourist Transport

Rome Fiumicino Airport Transfers

Rome Ciampino Airport Transfers

Civitavecchia Cruise Port Transfers

Hotels Around Termini Station

Rome Transport
Public Transport
Tourist Transport
Fiumicino Airport
Ciampino Airport
Civitavecchia
Cruise Port
Hotels
Termini Station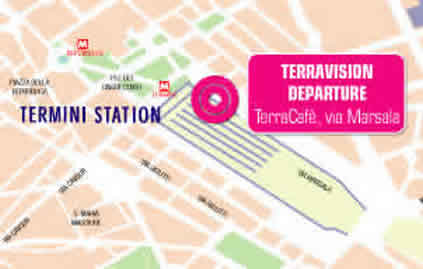 Terravision Rome Termini Station Terminus
All of the competing bus services from Ciampino terminate in this same area at Termini Station. Terravision is the only operator that has a formal ticket office and waiting room. This is inside the Terracafe, Terravision's own cafe and bar.
Note: when you arrive here for a bus, even if you have booked in advance its important to queue up and get a boarding card for your bus, (see tickets and boarding section below).
Terravision - Boarding, Baggage and Ticketing
There is no formal luggage limit with Terravision. Luggage racks inside the bus are small, just overhead parcel shelves, so most luggage will go in the hold.
You load the luggage yourself into the hold of the bus, do not expect any assistance at all. On reaching your destination too, the hold doors are just opened - its then a frantic few minutes as customers just grab their luggage.
At both Termini and Ciampino there are Terravision employees with Terravision jackets whom have sole responsibility for boarding of buses.
At Termini Station, go to the ticket desk inside Terracafe and you are issued with a boarding pass for individual schedules on a first come first served basis, again internet booked tickets get priority for the time ordered on-line. You must get your boarding pass 20 minutes prior to departure or you risk losing your reservation.
Ticketing
If you order on-line, you select an individual departure time which reserves you a seat on the bus. If for any reason you miss the bus you booked the ticket is still valid for a later departure.

Terravision On-line Ticketing - Buy Your Ticket Here
---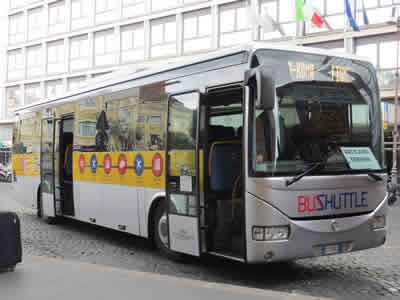 SIT Rome Airport Bus
At Termini Station
SIT Airport Bus - Rome Ciampino To / From Termini Station
The SIT bus is an almost identical service to the Terravision bus.
Same price, virtually same bus and frequencies, and bus stops at Termini and Ciampino just a few yards apart.
The SIT bus stop at Termini is exposed if it is raining.
Terravision has shelter and also have a Terracafe, a cafe/waiting room that serves coffee and snacks as well as acting as a ticket office.
Both SIT and Terravision can carry you between Ciampino Airport and Rome's main airport, Fiumicino but there is no direct service. You would need to purchase separate tickets on their Ciampino and Fiumicino serves to Termini Station.
---
ATRAL Airport Bus To Rome Metro (Anagnina)
The ATRAL local bus shuttles between Ciampino Airport and Anagnina Metro Station.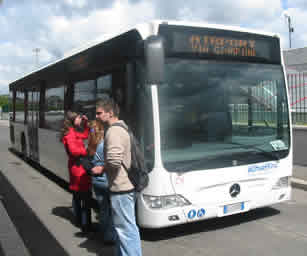 ATRAL Airport Bus At Anagnina Metro Station
You cannot buy a combined ticket for bus and Metro but this combo is still the cheapest way for a single person without luggage to get between Ciampino Airport and the centre of Rome, although not the most comfortable or quickest.
Anagnina Metro is the southern terminus on Line A of the Rome Metro. In front of the Metro Station is a very large bus station with buses both local and long distance.
At Ciampino the bus starts from the public bus stands immediately outside the small passenger terminal. On exiting customs turn left and go through the main doors, the bus stands are in front of you.
You can pay the driver. The ATRAL bus runs broadly every 40 minutes from about 6:30 until 22:30. The journey takes around 15 minutes between Anagnina and Ciampino.
Fare last advised as €1.20 per person plus another €1.20 for every case.
---
Ciampino Airport To Rome City Centre Transfer Options
Direct to Termini Station, journey 60 minutes.
SIT Bus €4
To Termini Station
ATRAL Bus €1.20
To Anagnina Metro (+ luggage supplements)
Rome City Cab & Private Cars
Flat fare to within city walls
Private Cars From €60 (depends on vehicle size)
Meet n Greet, English speaking driver
---

---