Colosseum & Roman Forum Half Day Tours
Daily walking or Segway tours with fast track access to Colosseum, Roman Forum & Capitoline Hill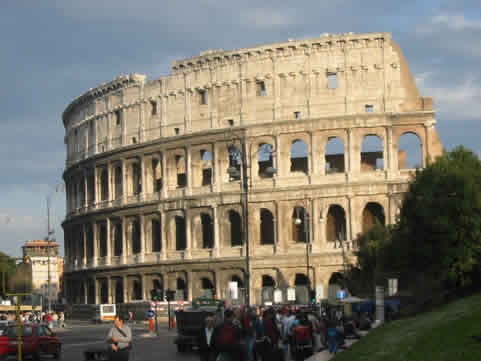 The Colosseum
Walking or Segway Tours
We have two half day (3 hour) tours covering the same ground, Colosseum & Roman Forum. One is a traditional walking tour with a maximum of 25 people, the other option uses Segway machines to glide you around.
Both of course are escorted by a professional and knowledgeable tour leader.
Colosseum & Forum Small Group Walking Tour
Take a small group walking tour (maximum 25 people) of Ancient Rome's major sights and skip the queues for the Colosseum and Palatine Hill. Perfect for first-time visitors, this guided morning or afternoon tour is the ideal introduction to Ancient Rome. Several major sites are covered in just three hours, and you'll receive enlightening insights into Rome's millennia of history as you stroll, without wasting time waiting in line.
Your tour begins atop the Colle Oppio with a panoramic view of the Colosseum, Rome's most recognizable landmark. Next, you will skip the long lines and gain special access to the Colosseum. Once inside, your expert official guide will take you through the bloody past of the amphitheatre as you listen to tales of gladiators, mock sea-battles and executions.
After a brief rest at the Arch of Constantine, you will arrive at the Palatine Hill, the most famous of the seven hills of Rome. From here you can admire the views of the Roman Forum and Nero's Circus Maximus where chariot races were held. Romulus and Remus were said to have been found on the Palatine Hill by the she-wolf who nursed and raised them. Legend also holds that Romulus went on to found Rome.
Sightseeing
In Rome

Most Visited Sights In Rome

Sightseeing
In Rome
Main Sights Rome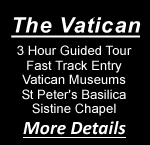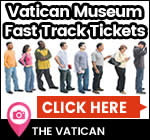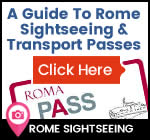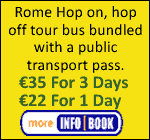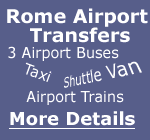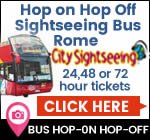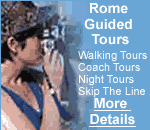 The last stop on your tour is a walk along the Via Sacra or 'Sacred Way', the main path through the Roman Forum that was used for triumphal processions. The tour ends at the temple which houses the altar where Julius Caesar was cremated. Visitors from around the world still leave flowers and candles at this site to this day.
Colosseum Special Access Tour Option
2011 marked the public opening of the Colosseum's underground chambers for the very first time, as well as the Colosseum's third tier, which hasn't been open in decades. If you upgrade to the 8:30am tour, you'll get special access to both areas and see Ancient Rome the way no one ever has. You'll follow in the footsteps of the gladiators themselves as you explore the tunnels where they once prepared for fights and where lions and tigers were once caged. You'll also go up to the highest existing level of the Colosseum – the third tier.
These newly opened areas can only be visited with a guided tour and must be booked in advance.
Days Of Operation: Twice daily, morning and afternoon plus the special access tour.
Departure Point: Tour departs near the Colosseum and finishes at the Roman Forum.
Inclusions: Walking tour. Small group tour (maximum 25 people). Professional guide. Guaranteed to skip the long lines. Entrance fees. Headsets to hear your guide clearly.

---
Colosseum & Roman Forum Plus Ancient Rome Small Group Walking Tour

---
---
Colosseum & Forum Segway Tour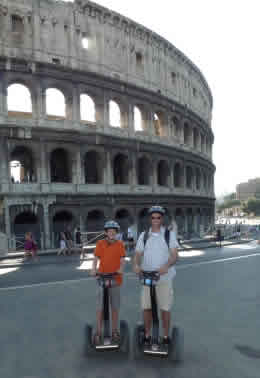 Colosseum Segway Tour
While you ride your two-wheeled electric Segway, which operates by self-balancing, you'll listen to your audio guide via a set of headphones and hear entertaining facts and anecdotes about Rome's history as you glide. You'll be introduced to Rome's hidden treasures (exterior only) and be entertained by the impressive legacy of legends and stories that resonate throughout the city.
Highlights of the three-hour Rome Segway Tour include:
- Circus Maximus
- Arch of Constantine
- Roman Forum
- Colosseum
- Trajan's Column
- Palatine Hill
- Santa Maria's Church and its Bocca della Verita wall sculpture
- Breathtaking panoramic views over Rome
Numbers on your Segway tour are limited to 8, and a minimum of 2. The tours are escorted by a tour leader to ensure a safe, unique and private experience.
Colosseum & Roman Forum Segway Tour Logistics
Days Of Operation: Daily. Every morning and afternoon during summer months..
Departure Point: Tour departs near the Colosseum.
Inclusions: Orientation session (30 minutes). Segway tour (3 hours). Tour leader. Audio guide Headphones so you can hear the audio guide clearly. Wet weather jackets. Use of helmet (optional).

---
---

---
---