St Peter's Basilica Vatican Tours & Fast Track Tickets
Options for an informed visit to St Peter's Basilica In The Vatican By Walking Tour Or Audio Guide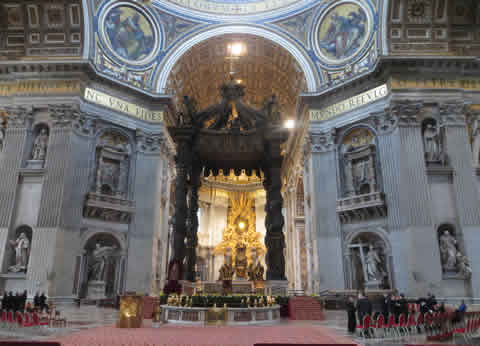 St Peter's Basilica Interior
St Peter's Basilica Has Free Entry But...
What should be emphasised before talking about any visit to St Peter's Basilica in the Vatican is that you can access the main basilica absolutely free. There are however popular parts of St Peter's Basilica where there is an admission fee, notably climbing the Cupola (Dome) of St Peter's for the great views from the top and the treasury.
The big downside to a "free" visit is that you will normally spend some time queuing to get access and when you do get inside, no information is at hand to explain the marvel that is in front of your eyes that you have invested so much time in visiting.
Investing in a tour of St Peter's Basilica either as a self guided audio tour or the traditional guide addresses both of these drawbacks.
St. Peter's was until recently the largest church ever built and it remains one of the holiest sites in Christendom. Contrary to what one might reasonably assume, St. Peter's is not a cathedral - that honour in Rome goes to St. John Lateran which is also included in the tour including bus transfers across the city.
Sightseeing
In Rome

Most Visited Sights In Rome

Sightseeing
In Rome
Main Sights Rome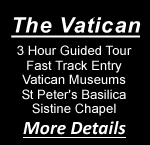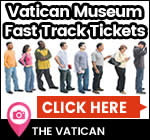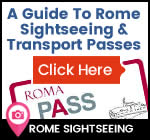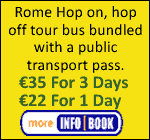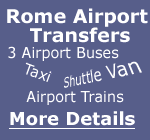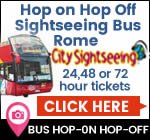 St Peter's Basilica Rome - Dress Code/Gaining Access
First of all the dress code is strictly enforced at St. Peter's Basilica. No shorts, bare shoulders or miniskirts. This applies to both men and women.
On a hot day there will be plenty of men in shorts turned away.
Dress code is quite strictly enforced within the basilica, more so than in the Vatican Museums.
St. Peter's Basilica is open daily, Apr-Sep 7:00-19:00; Oct-Mar 7:00-18:00
St Peter's Basilica Fast Track Tickets With Small Group Tour
See the best of St Peter's Basilica in Vatican City on a comprehensive 1.5-hour walking tour. Led by a knowledgeable Vatican guide
Numbers are limited to 20 people on this St Peter's Basilica tour, ensuring you'll enjoy a more personalized experience.
The small-group tour starts in the square, and as you walk over from the colonnade to the terrace in front of the church, your guide will tell you tales of Bernini, whose work had so much impact on the Vatican as you see it today. See several sites of significance, including the northern fountain, created by Bernini in 1975, and the impressive obelisk that dates back to 13th-century BC Egypt.
Next, leave St Peter's Square and head inside the tour's main attraction -- St Peter's Basilica. Reputedly built on the very ground where St Peter the Apostle was crucified, the church started out as a humble chapel to which Christian pilgrims flocked.
Gaze up in wonder at the incredible cupolone -- the church's dome -- created by colorful Renaissance sculptor Michelangelo. You'll also see his beautiful La Pietà sculpture, as well as various mosaic works.
Stop at the statue of St Peter and kiss or rub his foot for a blessing, before walking over to the tomb of Pope John Paul II. As you continue through the church, your guide will show you Bernini's lavish, bronze canopy altar, known as the baldacchino. Positioned right in the center of the building, the altar marks the tomb of St Peter underneath.
Your tour finishes in St Peter's Basilica, where you can stay if you want to spend more time exploring this sacred place independently.
Days Of Operation: Daily, but not Sundays or Wednesdays.

Departure Time: 9:30 – 11:30 – 12:30 – 14:30

---
---
Popular Tours & Tickets In Rome
Vatican Tours & Fast Track Tickets
Vatican Museums Fast Track Tickets €35.00
Fast track admission to Vatican Museum
Vatican Museums Fast Track + Small Group Tour €58.43
Fast track admission Vatican Museum + Guided Tour
Vatican Museums Fast Track Guided Tour €61.00
3 hour tour in English plus hotel pickups
St Peter's Basilica Fastrack plus guided tour €25.00
Small group tour, maximum 20 people
Vatican Complete (St Peter's + Museums) From €61.50
3 hour guided walking tour with Fast Track
Audience With The Pope €37.00
Attending Wednesday audience with transfers
Ancient Rome Walking Tours (Colosseum, Roman Forum, Pantheon, Trevi...)
Colosseum & Roman Forum €52.00/€55.00
Daily half day walking tour. am and pm
Colosseum & Roman Forum (Segway Tour) €75.00
3 hour tour by Segway machine
Colosseum, Roman Forum, Pantheon,Trevi €30.00
3 hour walking tour. Morning or Afternoon
Spanish Steps, Pantheon,Trevi,Navona €39.00
3 hour afternoon walking tour
Villa Borghese Gallery
Villa Borghese Fast Track Tickets €30.00
Fast track admission ticket for a 2 hour slot
Villa Borghese & Gardens €46.00
2 hour tour of gallery + 1 hour gardens tour
Other Popular City Of Rome Tours
Dan Brown 'Angels & Demons' Tour €56.00
4 hr walking tour inspired by the Dan Brown novel
Best Of Rome Coach Tour €39.00/€92.00
Half or Full Day coach tour of main sights
Roman Gladiator Lesson From €55.00
2 hour lesson in becoming a Roman Gladiator
Night Tours Of Rome €30.00/€41.00
Choice - walking or coach tour of Rome by night
Private Car & Driver
4 hour customised Rome tour €210.00-€378.00
Price per Mercedes vehicle (1 to 8 passengers)
8 hour customised Rome tour €378.00-€567.00
Price per Mercedes vehicle (1 to 8 passengers)
---

---